Today, telehealth is a far more common option for treating skin conditions, and meeting with your dermatologist over computer or smartphone is a convenient and efficient way to manage your eczema.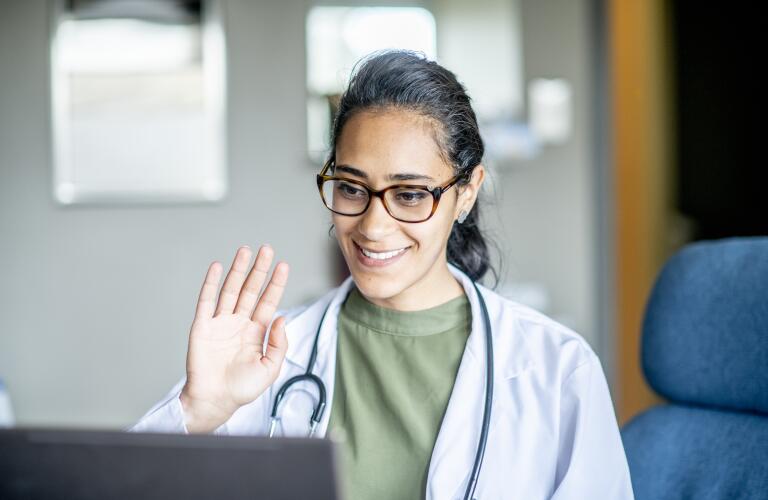 Atopic dermatitis is the most common form of eczema. It's an itchy skin condition that affects more than 16 million adults in the United States. Today, thanks to telehealth (also called telemedicine), you can use technologies like your computer and smartphone to meet with your doctor from home. Convenience and easier access to care are just a few of the many benefits of telehealth for atopic dermatitis.
1. Dermatologist telehealth visits can save time and money.
Seeing a doctor from home skips the time you would have spent driving to the doctor's office, parking, and sitting in the waiting room until the doctor was ready to see you. You can avoid having to take time off from work or hire childcare like you would have to do for an office visit.
With telehealth, the process is streamlined. In many cases, you send your dermatologist digital photos of your skin, along with a description of your symptoms ahead of time. The doctor reviews your photos. Then, you meet over video, and your doctor gives you treatment recommendations. If you need a prescription, your dermatologist can call it in to the pharmacy for you. And if you have any questions between visits, you can email them to your doctor over a secure patient portal.
2. You can accomplish just as much remotely.
Seeing a doctor remotely is well-suited to skin conditions. Atopic dermatitis often appears as red or brown patches on the skin in places like the head, neck, and upper chest. Its distinctive appearance makes it easy for doctors to identify over video or from a photo. In one study, primary care doctors were able to diagnose atopic dermatitis using telehealth with 84.4% accuracy. They were also able to recommend treatment remotely, without their patients having to come into the office.
3. You can see a specialist far away.
People who live in a big city may have access to one or more dermatologists nearby. But many rural areas have few to none of these specialists. Telehealth overcomes that problem by bringing the doctor to you. You can see a dermatologist in another town, across the country, or in a different part of the world.
4. It's easier to stay on top of your care.
The hassles of having to get to an in-person appointment can prevent you from keeping your regularly scheduled dermatologist visits. You don't want to let atopic dermatitis go untreated, because it can lead to complications such as infections, trouble sleeping, and low self-esteem. The ease and convenience of using telemedicine for eczema makes it more likely you'll get the treatment you need.
5. You'll avoid getting sick.
The COVID-19 pandemic has led to higher demand for telehealth visits. If you're worried about catching COVID or another infection at a medical office, telehealth is a safer alternative. You can continue to get the care you need without fear of getting sick.
6. Most people are happy with the results.
People who use telemedicine for eczema get just as much skin clearing as those who visit a doctor in person. And a dermatologist telehealth visit improves quality of life as much as an in-person visit, research suggests. Overall, people say they're perfectly happy seeing their dermatologist remotely.
Telehealth doesn't completely replace in-person doctor visits. There may still be times when your dermatologist will want to see you in their office. However, it can cut down on the number of times you have to get in the car and drive to the clinic. And its convenience could help you stay on track with your atopic dermatitis treatment, without disrupting your daily routine.